---
Blender vs Food Processor - Differences Fully Explained
John from http://www. com/ answers the question, what is the difference between a blender and a food processor . In this video, John will go in.
The Difference between a Food Processor and a Blender
SALE TODAY: Learn Piano on iOS http://bit. ly/PianoAppSale http://www.
---
Twitter
---
Latest News
Vanilla-Honey Flabby Serve Ice Cream - New York Times
You don't demand an ice cream maker for rich, custardy ice cream. With the help of an electric mixer and food processor, you can create ice cream with the texture of soft work for. One of the keys to a silky texture without the ice crystals that plague other no-churn ice cream recipes is using cream cheese (a trick picked up from Jeni Britton Bauer of Jeni's Posh Ice Creams). This ice cream is best served right out of the food processor or blender, but if you want to make it entirely ahead, take it out of the freezer 20 minutes before serving. If you would like to blow up b coddle this recipe with an ice cream maker, freeze the custard according to manufacturer's directions after cooling it completely. Preparation In a medium saucepan over course heat, bring cream to a simmer. As the cream heats, whisk together yolks, sugar, honey, vanilla and flavour in a large bowl until smooth. While whisking constantly, slowly pour half the hot cream into egg mixture. Scrape custard back into saucepan and cook over ordinary-low heat, stirring constantly, until custard is thick enough to coat the back of a spoon (180 degrees on an instant-read or sweetmeats thermometer). Strain into a heatproof bowl and whisk in cream cheese until completely melted. Nestle bowl in a larger pan filled with ice water. Using a hand mixer or immersion blender, whip custard until thick and cold, about 5 minutes. Spoon blend into 3 or 4 ice cube trays. Using an offset spatula or butter knife, pop out ice cream cubes. Transfer to a food processor or blender. Pulse cubes with milk until the ice cream is glib and has the consistency of soft serve. Source: cooking.nytimes.com
Austin360Cooks: What's the in a beeline blender for super soft slushies? - Austin American-Statesman
I have the worst blender this side of Lady Bird Lake. No joking, my low-end model could barely handle the salsas I was making a few weeks ago for a story, much less a decent smoothie or ice for a frozen adult beverage. I was poking wide on Instagram last week, looking for culinary inspiration through the #Austin360Cooks hashtag, and stumbled upon this beauty from Austin blogger Becca Davis (@ twoplacesatonceblog ), who writes about her cooking at... When it comes to purees, I get by with a Cuisinart food processor, but some things, like ice for a frozen margarita or daiquiri, you just don't coalesce in a food processor. It turns out that Davis had a sub-par blender, too, and she recently upgraded. I've been on the market for a new blender for a while, and thought I should just pinch my pennies for a Vitamix, which is easily at the top of the line for consumer blenders. After Davis wrote a gushing stick about a new blender she recently purchased that included a recipe for a gin-based frozen drink (insert heart-eyed emoji), I hopped over to her Instagram account to ask which blender she bought, fully in the club her... Turns out, it wasn't a $500 Vitamix. It was a $125 Ninja, a three-speed professional series with a 72-ounce pitcher, that's energetic enough to turn a blender full of ice and frozen fruit into a slushy with smooth, even ice crystals. When I try to make these now, I get all kinds of uneven ice chunks, like I hacked a impede of ice with a potato masher. That's not what I want when I'm making a slushy. Now that we're starting to see the sun a little more and the summer heat is creeping in, maybe it's time to upgrade my blender and frozen-the bottle-recipe catalog. Later this summer, we're going to have a big rocks-versus-frozen story that will examine some of the science behind Austin's signature summer cocktail. In the meantime, do you have any favorite margarita (or other frozen tot) recipes or tips. Have an affordable blender you think I should know about. Tropical Fruit and Gin Slushies. 2 1/2 cups ice. 1/2 cup gin. frozen tropical fruit. In a blender, put together all ingredients and blend until smooth. — Becca Davis, Two Places At Once ( twoplacesatonceblog. Source: www.statesman.com
Ritualize National Iced Tea Day with This Insanely Refreshing Recipe - InStyle
Reciprocal: Do Those Instagram-Famous Detox Teas Really Work. Halve two of the peaches, removing the pits. cut into 1/2-inch slices. In a usual-sized saucepan, bring 4 cups of cold water to a rolling boil. Remove from the heat and add the tea bags. Cover and let someone have the tea to steep for 12 minutes. Remove the tea bags and add the sugar, stirring until completely dissolved. Peel, pit, and cube the leftover two peaches. Purée with the lemon juice in a food processor or stand blender. Push through a fine-mesh strainer to remove pulp. Interrelated: Boost Your Immunity With This Tea-Tail from the Founders of Owl's Brew. Pour the peach purée into a 2 ½-quart pitcher along the sweetened tea. stretch to three-quarters full with added cold water. Stir well and chill. Serve in decorative glasses, using the frozen peach slices in assign of ice cubes. Source: www.instyle.com
Bing news feed
Details about Cuisinart Duet Blender Food Processor bfp-703ch Chrome
3L Electric Universal Fritter Food Processor Blender Meat Grinder Ice ...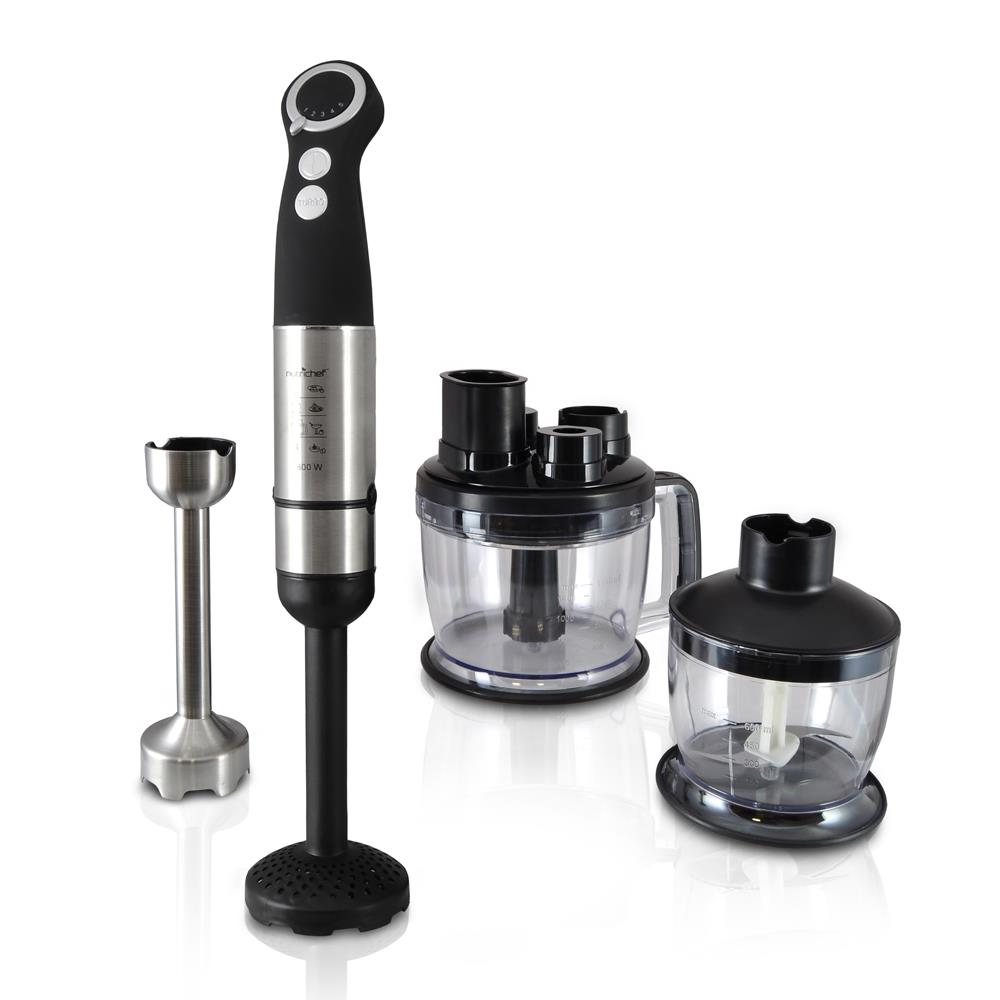 New Pyle PKHBK12 Food Processor Immersion Hand Blender | eBay